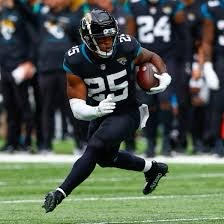 The Jacksonville Jaguars have a versatile running back core, but due to injuries, they could not produce as they could've. Today, I look at how each running back did and one trade or free agency acquisition that could boost their group. 
James Robinson
James Robinson has been the strong point for the Jaguars run game. With 767 running yards and eight touchdowns, he was set to be the leading rusher for Jacksonville with season-high 87 rushing yards against the Houston Texans. But after a few weeks into the season, James Robinson suffered a torn Achilles against the New York Jets and was ruled out for the rest of the season. But with a fully healthy season, I believe James Robinson will be a low RB1 in this upcoming season.
Travis Etinette
This year will be a challenging one in terms of the transition from college football to playing with some of the best in the league. The rookie from Clemson was selected in the first round of the 2021 draft along with fellow Clemson alum Trevor Lawrence. And while we didn't get to see him in the regular season due to a foot injury that put him on IR for the season in pre-season.
Free Agency acquisition- Sony Michel
No matter where Sony Michel goes, whether it was in Georgia, New England, or with the Rams, he can contribute an incredible amount to help teams win games. The two-time winning Super Bowl running back got 845 rushing yards and four touchdowns. I believe this addition will help motivate the other running backs in the Jaguars' offense to step up when needed most and is a vital addition to the team if it does happen.