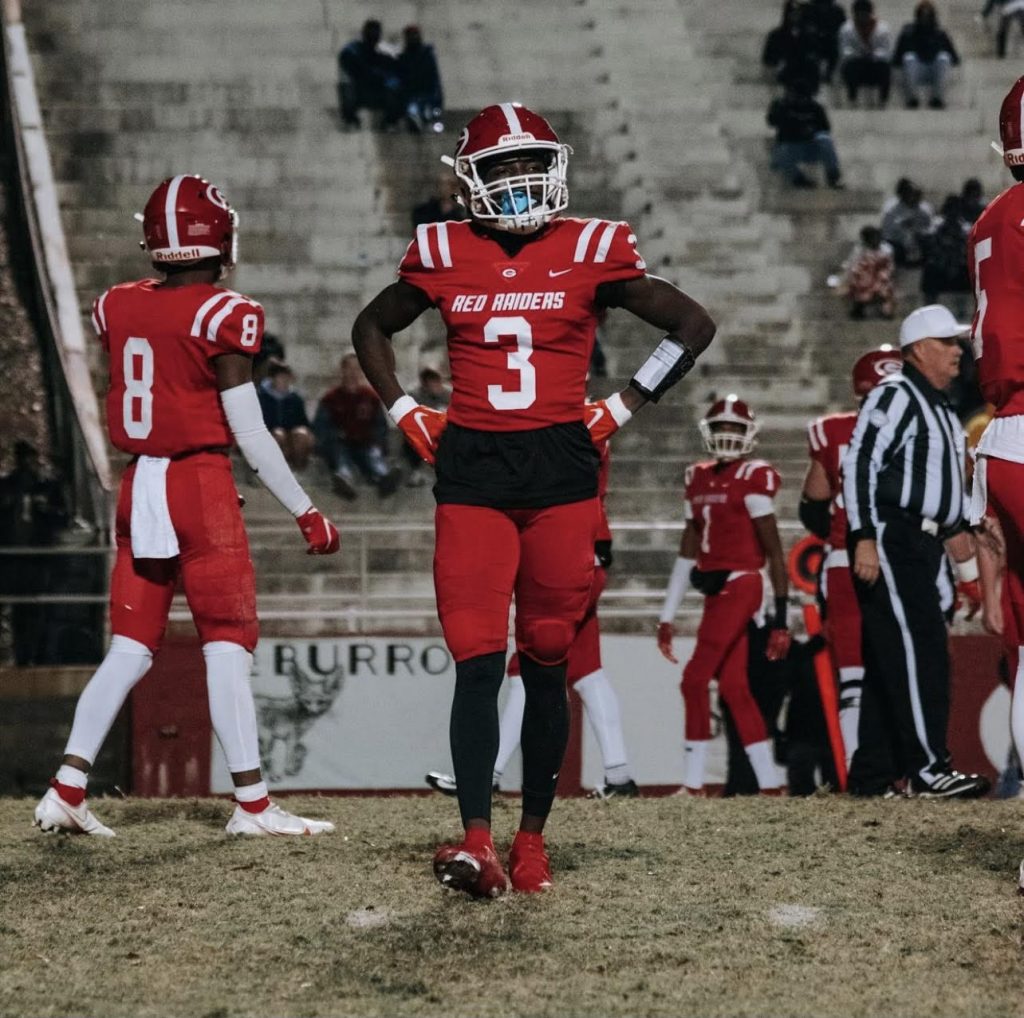 Hardworking, determined, driven, motivated. All these words may make you think of yourself, your role model, favorite player, or celebrity. When I hear those words, 16-year old Mazeo "MJ" Bennett Jr comes to mind. MJ is a sophomore at Greenville Senior High School and plays varsity football for the Red Raiders. Not only is MJ the Red Raiders' starting wide receiver, but he is also the #1 wide receiver in the state of South Carolina. The class of 2024 superstar has gotten offers from four colleges, the University of South Carolina, Coastal Carolina, University of Kentucky, and Virginia Tech. The offers are just the first of many as MJ visits Clemson, Notre Dame, and others.
After sitting and talking with MJ, he stated that he has been playing football since the age of four. He grew up around the sport with his dad and brother having a significant impact on his decision to play in the first place. "Me seeing my brother go through the same process I'm going through now is what really drove me to do this."
MJ's brother played football for the Louisville Cardinals as a cornerback from 2015-2017 and had 151 total tackles within his career.
When being asked about carrying the weight of being the number one receiver in the state, MJ said, "it motivates me to grind harder than I already have, I already felt that I was number one so for others to finally see it play out on the field, they can really see who I am." Again, only being 16, MJ has proven a lot and has way more to showcase for the world to see the player that he is.
There are players in college who are very versatile. Some have even learned to switch positions on the field to help enhance their team's play call, so when asked, "would you switch positions if you had to?" and he responded, "I would definitely do it without hesitation, I've been switching positions my whole career, I've played every position on the field so I wouldn't mind playing a different position when I get to college." Wherever MJ ends up, defenses are going to have a lot to handle from him alone. His ability to go from playing on the offensive side of the ball, to the defensive side of the ball and special teams.
An exceptional and talented player, MJ doesn't stop working when the season is over. In the offseason, he will continue to work on and perfect his craft and increase his speed. MJ partakes in wide receiver workout with his trainer.
"Family means everything to me," MJ said, "my goal outside of football is to live comfortably and not only provide for myself, but to provide for my family."
When asked about how his coaches have impacted him on and off the field, he stated, "My coaches have been the enforcers, they have pushed me to my limits, and I really appreciated that, especially my trainer, Bobby McGowens, we've been working out nonstop since right after middle school…" "…I really want to thank him for that because he got me to where I am today playing wide receiver.." "My strength and conditioning coach/offensive coordinator, Amos Lamb as well, he has really pushed me in the weight room and on the field." Safe to say, the men in charge of bettering their players as a person and a player are doing a great job in shaping MJ.
To take a step away from MJ the player, we get a little into MJ the person. MJ is a fan of the Dallas Cowboys and has been a fan for as long as he can remember. He also grew up a Clemson fan but stated that having the opportunity to go to different colleges and see how they operate has opened his eyes to other teams. His favorite NFL player is Lamar Jackson, and when it comes down to his pregame routine, he will listen to anything by Lil Baby to lock in and focus on the game. When asked about his hobby, he mentioned that he was a sneakerhead, and he also sells shoes on the side. Outside of football, he keeps the heat on his feet, so if you're looking for some, I would go and get with him!
Not only does MJ make intelligent moves on the field, but he also makes them off the field as well. As a sophomore, he works out, eats right, school five days a week. Saturday's consisting of college visits and Sunday's being his day to rest or even doing a light workout, he has an outstanding 4.8 GPA.
Wrapping up the conversation, I asked what made him a good teammate, and he replied, "I push my teammates to their limits every day at practice, we're going back and forth, I want to be the best at what I do and I want them to be the best at what they do," "I can help them on and off the field, sharing my tips at how I keep my grades high and tips on the field as well."
Once again, Mazeo "MJ" Bennett Jr., number one wide receiver in the state of South Carolina, class of 2024 at Greenville Senior High, the city is in for a treat within the next two years as he continues to perfect his craft and be best and makes his family proud.