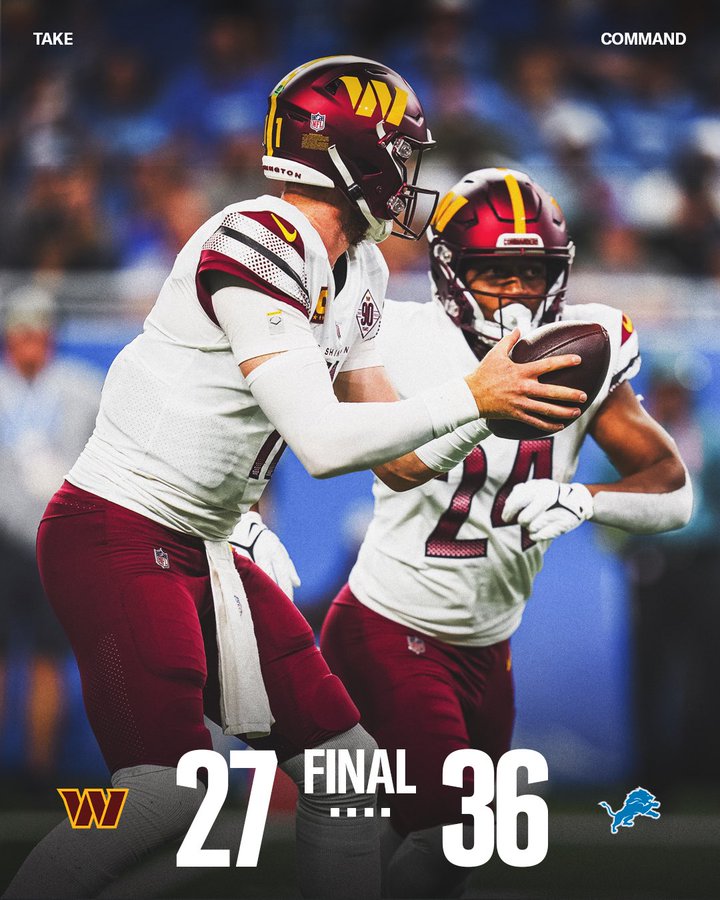 In the NFL, there will always be adversity & unpredictability, and that was the case for the Commanders in week two against the Lions. Washington couldn't seem to get anything against Detroit as they went scoreless throughout the first two-quarters of play. But then Ron Rivera must've channeled his inner Remember The Titans at halftime because, in the next two-quarters, Washington came back with a vengeance cutting the lead to 9 in the 4th. But it was simply two little late for the commanders as they fell short to 1-1 and 3rd in their division.
Carson Wentz put up a strong performance in week 2, notching 3
touchdowns for 337 yards & the man drafted above him, Jared Goff, tore
up Washington's secondary for four touchdowns and 256 yards. Detroit's
Amon St. Brown seemed to be playing Madden on Sunday, totaling two receiving touchdowns and 68 rushing yards. The 2nd Overall pick Aidan Hutchinson proved why he was drafted so high terrorizing Washington's O-Line for three sacks and six tackles.
Washington will look to get back on track in Week 3, taking on a red hot
Philadelphia Eagles team, which some are already calling the best team in
the NFC. Wideout Terry Mclaurin had this game circled on his calendar, considering he has recorded the most receiving yards against the eagles over any receiver in NFL history since 2019. Carson Wentz is sure to have some extra motivation this week playing his former team for the 1st time in his career. Wentz was quoted as saying, "it was just another
ballgame," to him on NFL Total Access.