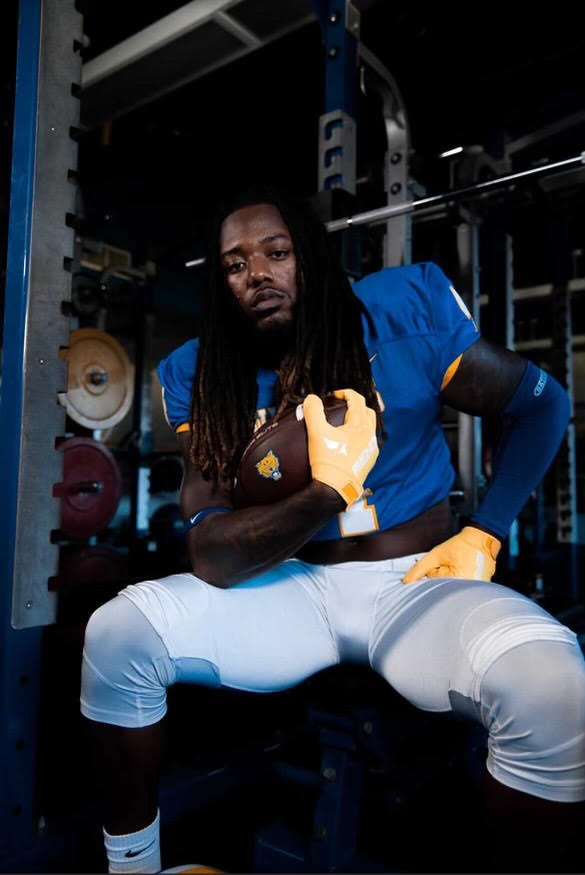 When you think of the word resilient, some people may think about the definition itself or even a famous athlete. Kobe Bryant, LeBron James, Dak Prescott, Tom Brady, etc. Each of these players went/is currently going through some type of adversity, whether on or off the field/court. Marlon Fleming II, running back out of The Fort Valley State University, a Division II school in Georgia, comes to mind when I hear the word resilient.
Originally from Tampa, Florida, but growing up in Ft. Lauderdale, Fleming took his talents to FVSU. He stated that HBCUs do not get as much media attention. However, it is starting to grow, and it will be good for those who play for an HBCU that way when it's time to go to the next phase in their football career, not only are you helping yourself, but you're putting your school on the map for others to know about.
When talking to athletes, most people want to get the inside scoop of them on the field and what they bring to help their team win; that's good information and all, but I want to get to know the player on and off the field. After speaking with Fleming, we learn about when he started playing football, what drives him, his goals, the meaning of family, pre-game routine, unique talents, and more.
Fleming fell in love with the sport at the age of six; since then, he has wanted to do nothing more than be around the guys, have fun, winning games. Now that he's older, Fleming says that what drives him to play is his passion for the game. "I am a playful person at heart, I play to relax and have fun," Fleming stated. "My coaches have been impactful on and off the field," Fleming said when asked about how his coaches have been influential, "they are like an extension of parental figures in my life. They were able to pull out the best in me that I wasn't able to pull out myself." Safe to say that the coaches in Fleming's life have helped him mold into the player he is today. When discussing how someone would describe his work ethic, Fleming mentioned that his coaches would say something along the lines of being relentless, determined, and driven. "With the right guidance and training, there is nothing that I can't do." He also mentioned that his family would say his work ethic would be described as motivated and optimistic.
On the topic of family, we got a little deeper into Marlon's life and talked about the meaning of family. "Family is everything to me, they are the ones who are there to support you and the ones I can be around and just let my hair down," Fleming stated. "They are the ones to stick beside you no matter what and give you advice when you need it the most." Outside of one day getting a gold jacket and being admitted into the NFL Hall of Fame one day, Fleming's goal is to create generational wealth for his family. He stated that he had a good life growing up, but he wants to create an even better one for those under him.
"I don't just want to be another memory of someone, I want to be a model of the family."
"Football is an escape route for me, I treat my teammates like family, and I want them to have the same success as me if not better." Fleming told me after being asked what he thinks makes him a good teammate. "We all eat at the end of the day, and it's my goal to make them smile even if they don't say much."
Marlon Fleming II is a big music fan and enjoys listening to all the popular dance songs and listening to the late great Nipsey Hussle and Kodak Black, also a Florida native. During his pre-game routine, Fleming will play whatever his mood is. Because he is a kid at heart but also realizes that this is a serious time, you can't be too serious because then you would not enjoy the game; with that being said, stated that one song that he will play every time is "I don't stress" by Nipsey Hussle because it reminds him to not stress out over the game and if it is a big game being played that means it is a big game for him.
Lastly, it wouldn't be right to talk with a football player and not ask what teams they enjoy the most. Fleming said that his favorite NCAA team is Miami University, "got to represent the U!" and the Seattle Seahawks' favorite NFL team. Being from Florida, you would think his favorite team would be between Miami, Tampa Bay, or Jacksonville, but it is Seattle. When asked why he stated that, "I love Pete Carroll, I love his philosophy and how he sees a diamond in the rough with players and of course, Marshawn Lynch, the Legion of Boom, he's my favorite running back." It is understandable as to why he has his favorites.
Marlon Fleming II, a kid who wants to make his dreams come true and is willing to take whatever avenue that leads him to the NFL so he can showcase his talent and become one of the best in the game.