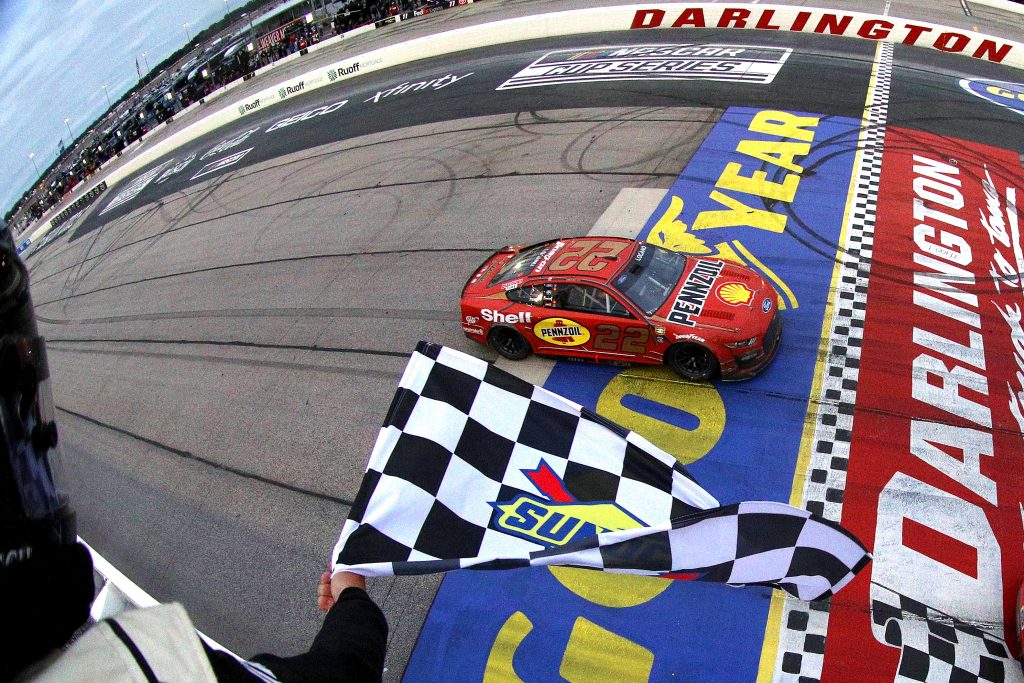 Joey Logano started from the pole and stayed in contention all race for the win at Darlington. He led a race-high 107 laps on his way to victory lane. With about seven laps left, William Byron built his lead to about a second. Then suddenly, with five to go, Logano was closing at a tenth per lap. Everyone will be talking about his path to the winners' circle for at least this week. 
Going into Turn 3, heading to the white flag, Joey Logano essentially used the back of Byron's car as a brake. The hit sent the 24 cars up until the wall and made significant contact. Both of Byron's right-side tires were flattened, and the driver came home 13th. From the camera angles, it looked like Joey could have easily made the pass with the run without making any contact with Byron. This will undoubtedly be in the back of both the drivers' minds going forward to the playoffs.
For Logano, the win snaps a 40-race winless streak that was well documented. Last week at Dover, Logano finished 29th and four laps down. It was one of his worst career finishes that wasn't a DNF. Fast forward just six days, and Logano had a dominant car and came away with a Darlington win. Byron had a stout car all day but not a winning car. The team made suitable adjustments on every stop and positioned themselves to steal the win late.
Tyler Reddick adds to his collection of runner-up finishes. At times, Reddick had a car that looked fast enough to contend for a win, but track position didn't fall in their lap when they needed it the most. Still a good finish for the Richard Childress Racing driver. His teammate Austin Dillon fought hard to stay on the lead lap at one point and rebounded to come home 9th. The underdog finish of the day was Justin Haley coming home 3rd. At first, I thought it was just pit strategy getting him in the top 5, but Justin drove the wheels off the car and proved he can run strong on tracks that don't require restrictor plates.
I would also like to shout out to Ricky Stenhouse, Jr. for finishing in the top 10 for the second week in a row. The team was riding some significant momentum from the runner-up finish at Dover last week. Next week the NASCAR gang heads to Kansas for a Playoff Preview Race. The Round of 16 starts with Darlington and Kansas back-to-back, just like we have them here in May, so pay attention to the cars that run well here in these two weeks. See you in Kansas.