Hey Kobe, it's me, Tyler. I still haven't recovered from January 26, 2020. Damn, it's been two years! January is supposed to be the month of new beginnings, and set objectives on how you will go into the new year. I wanted to share a few things that I know you would be proud of as an advocate for girls basketball and being a girl dad.
Last year allowed me to find my purpose as Sports & Culture Sports Media. The start of the year was a little tumultuous because we were coming off of covid stopping sports in person. Many events went virtual, which allowed us to cover some significant events such as the Super Bowl and The White House! That does not happen for many startup companies, yet there we were in the room with some of the best in the country! I had the Mamba Mentality! I wanted to cover every event presented my way because I felt as if that was what I should be doing. I was trying to drop 81 on the Raptors at every event! It wasn't until the summer that I realized what I should draw my attention to.
July 27, 2021, was more than a birthday. I covered a football camp orchestrated by an organization called The QB Legacy. The love and appreciation I received from the kids and parents made me realize a glaring need in the community to showcase the youth. Also, at the time, I was training my daughter to get ready for basketball tryouts in the upcoming season. Those training sessions brought a different type of joy and a sense of direction. It's time to focus on the legacy you were building with the WNBA. We need to focus more on Women's/Girls' sports.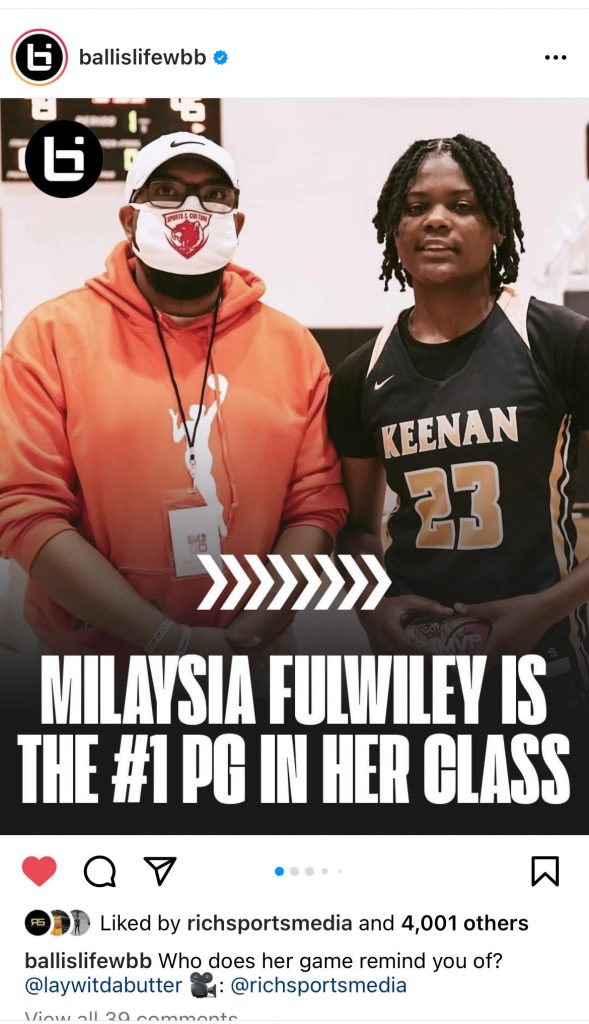 It's now Thanksgiving weekend, and I'm at the Greenville High School Thanksgiving Classic. There I witnessed so much talent on the court. These girls were smart too! Quadaija Langley reminds me the most of you (#24 Kobe). She's a KILLER! Then I was blessed to make it down to Columbia to scout more teams. Milaysia Fulwiley is very similar to the younger version (#8 Kobe). That girl game is so SMOOTH! It looks effortless at times. I love watching many teams here in the upstate such as Westside, Eastside, Mauldin, Greenville, & Southside (honestly all the schools Lol). Can you believe I made it to Ball Is Life Women's Basketball Instagram page? Shout out to Rich Sports Media and A1 Hoops Report!
I'm going on a tangent Mamba. I guess what I'm trying to say is, I want to make sure the interest and buzz you created with Gigi for women's sports don't fall to the waste side. I wear my orange hoodie religiously! My goal this year is to not only keep the flame going but add lighter fluid to it! Oh, my daughter made the team, and guess what number she's wearing? The number two in honor of Gigi. Everything I do that involves girls' basketball with my daughter or these girls will have the Mamba Mentality behind it. You have my word to carry the torch for an advocate for Women's sports. Alright, I'll let you get some rest. I promised to take my daughter running this morning because she's determined to get better as an athlete. We say this before she goes to bed every night, " today was great, tomorrow will be better and Kobe always says… BE BETTER!"
Mamba out… I'm out.