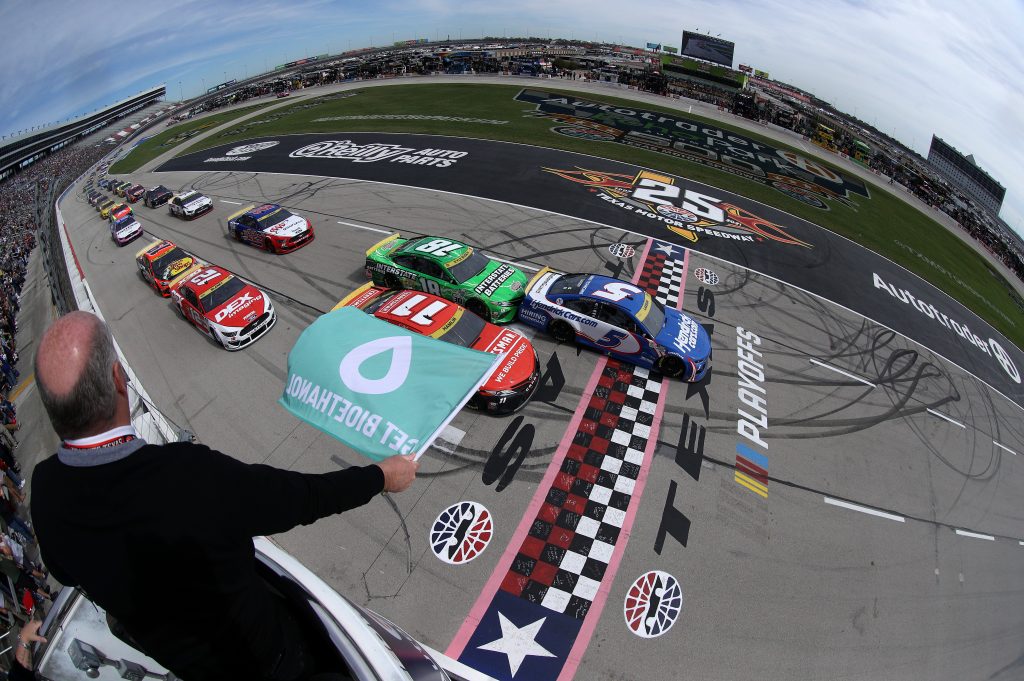 Kyle Larson stole the show at Texas Motor Speedway, winning Stage 2 and leading the most laps. His #5 Hendricks Motorsports Chevy was perfect on every single restart to end the race, holding off teammate William Byron on several attempts to take the win away. With Byron finishing second, this adds yet another 1-2 finish for the Hendricks Motorsports team. What is most impressive is that Christopher Bell had about 40 laps fresher tires and was unable to catch and pass the Hendrick group on the final restart and finished 3rd.
Brad Keselowski had a rough start to the race, struggling to stay near the other playoff drivers. After every pit stop, the car seemed to get a little better, and by the end of the race, Brad was in position for a top 3 finish but came home 4th. Brad's teammate Ryan Blaney appeared to have plenty of speed all race, but couldn't quite catch the Hendrick drivers, which nobody could. Blaney came home 6th but was very pleased with his car and their finish. Chase Elliott came home 7th, and Kyle Busch was 8th.
The big story was the race's ending for Denny Hamlin, and Martin Truex, Jr. Hamlin cut a tire after close racing with Ryan Blaney and spun on lap 315. For the most part, Hamlin kept control, only tapping the inside wall but later was caught up in another wreck. Hamlin still came home 11th, but his car was a mess. Truex made contact with Daniel Suarez on lap 320 and hit the outside wall hard, ending his day. From my perspective, it looked like Truex thought he had given Suarez enough room on the bottom and came down just a little too much and got loose. He overcorrected, and the car turned hard right into the safer barrier. Because of the big wreck earlier in the race, Truex still came home 25th.
Joey Logano had a rare engine failure on lap 299 and finished 30th. Logano has an uphill battle now heading to Kansas, a whopping 43 points below the cut line. Martin Truex, Jr. also finds himself 22 points below, and both drivers likely need a win or a lot of help to advance to the Championship 4. Despite being involved in two different wrecks, Denny Hamlin leaves Texas +9 points to advance. Kyle Larson is the only driver who can sleep comfortably tonight, knowing that as long as he starts the next two races, he will race for a championship in Phoenix in 3 weeks.
Kansas has been a bit of a Toyota home track, scoring five of the last nine wins. I think that Chevy will have the better race though, with Larson advanced, Hendrick Motorsports can now focus on getting Chase Elliott into the Championship 4. I stand behind my prediction that the final four will be two Chevy against two Toyota's. Don't forget to tune in every Monday night to Loose Lugs, presented by ASAP Sports Network and powered by Sports and Culture Media.