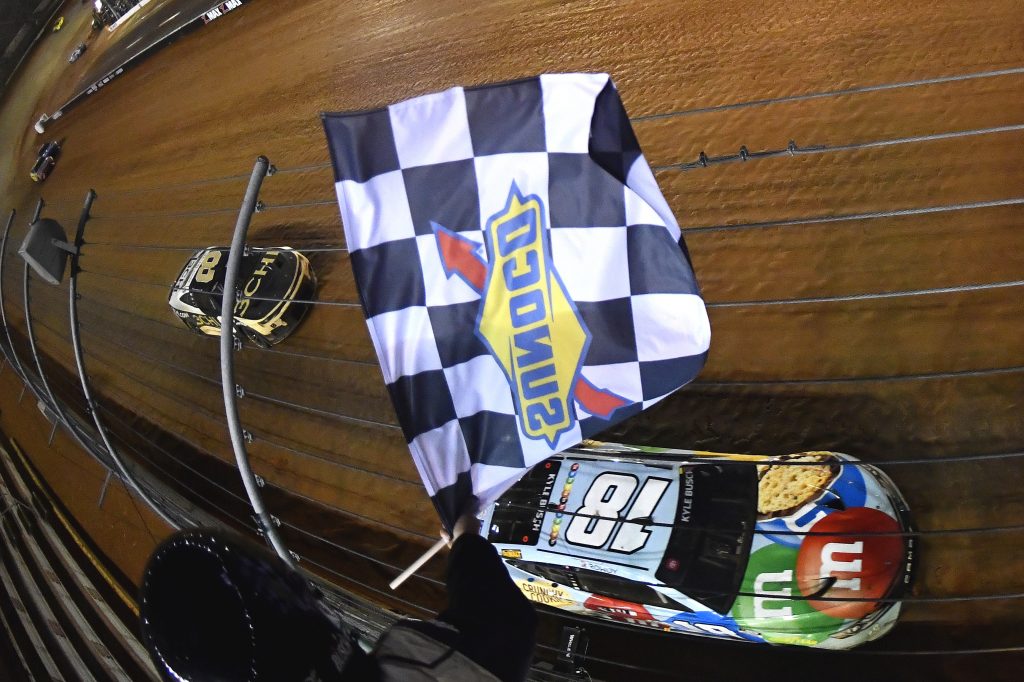 The Second Annual grown-ups playing in the dirt at Bristol was a huge success. If you are a fan of racing, this was what you wanted to see. Maybe your favorite driver didn't win, but this was a classic from a pure racing standpoint. 
Kyle Larson looked strong early on, winning Stage 1 and continuing to plow through the field. Had Chase Briscoe not getting out of the racing groove in Stage 1, he likely wins it. He did come back to win Stage 2 and had one of the strongest cars all night. But the actual storyline was made on the final turn of the final lap.
Tyler Reddick and Chase Briscoe battled hard from the last restart on lap 222, with Reddick able to pull away for a few laps and Briscoe reeling him back in. When the two drivers turned four on the last lap, Briscoe drove in deep to get under Reddick, slid up the hill, and took out both drivers. Reddick could get his car going before Briscoe and only had to drive 150 feet to the finish line. Kyle Busch had come off turn four and got back to the stripe just a mere .330 seconds ahead of Reddick to steal the victory, his 60th career Cup win, and 9th at Bristol Motorspeedway.
If you go back and watch the turmoil out of turn 4, it's easy to say Briscoe messed up. And technically, he was the driver at complete fault. But let's be adults here; when you have a chance to get a win in any race and division, you take it. That's what Chase was doing, exactly what everyone else would have done. Unfortunately, he wrecked himself and Tyler Reddick, but that wasn't his goal.
Most drivers would have dragged Briscoe out of his car and threw a few punches at him. Especially considering Reddick, this would have been his first career Cup Series win. Instead, the two were adults and talked about it on pit road. Briscoe went up to Reddick and apologized, taking full responsibility, and both drivers seemed to understand each other. I won't lie; I would not have been upset if Reddick took a swing at him because that's what I would have done, but kudos for not being me.
Kyle Busch, after the race, seemed to have a sense of accomplishment, and I can't figure it out. I know he won the race and all, but it's not like he was going to catch either of them without the drivers in front spinning each other. He celebrated and talked post-race as if he was dominant and beat the field. Very odd to me. Congrats on being in the right place at the right time. I guess that is what I should be saying at the right time.
The Sports and Culture crew will travel to Talladega Superspeedway for some in-person coverage this upcoming weekend. We are excited to make the trip and cannot wait to bring you epic interviews and spectacular pictures from the race weekend. The ARCA Race kicks the weekend off on Saturday at noon, followed by the Xfinity Race at 4 pm. The Cup Race will be Sunday at 3:00 pm, weather permitting. Last fall, we made the trip to Talladega, but the race was delayed until Monday, and we couldn't stay for the next day. This time around, we will make it work, rain or shine. I hope you all had a great Easter and see you this weekend from the track!