https://www.youtube.com/watch?v=iYxC3lbD7f8
Media Release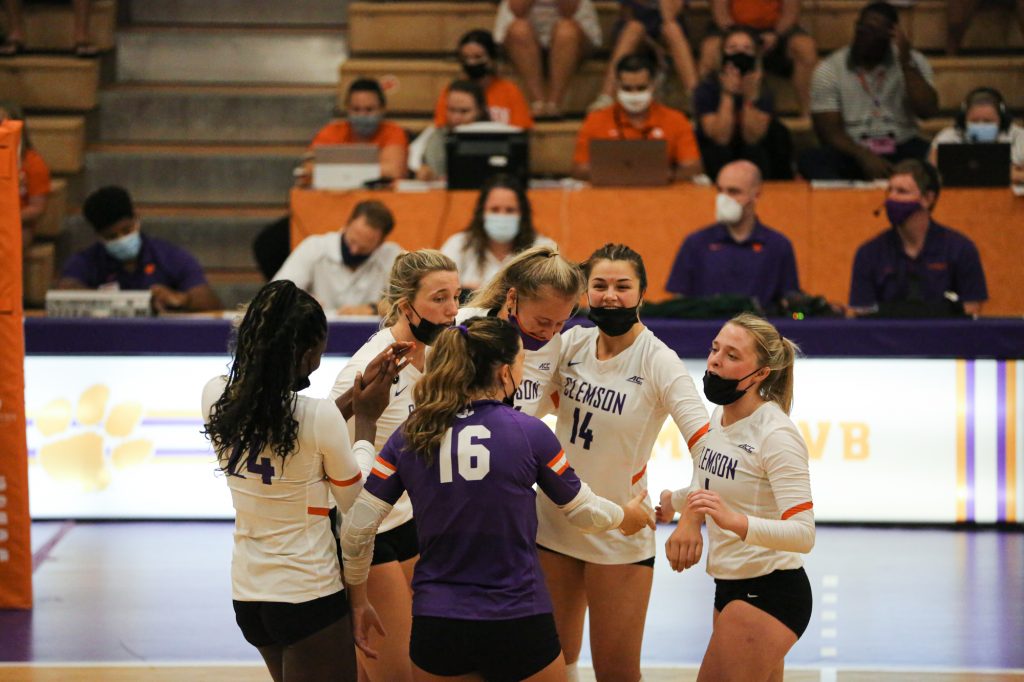 Clemson, S.C. – The Clemson Volleyball program won its season-opener on Saturday afternoon, 3-0 (25-22, 25-23, 25-14) against Samford (0-2) at Jervey Gym. Jackie Simpson Kirr claimed her first match as Clemson's Head Volleyball Coach. 
Clemson (1-0) finished the first match of the day with 37 kills, 37 digs, nine service aces and six blocks, while hitting .274. Clemson is back in action on Saturday evening at 7 p.m. when they host North Carolina A&T in the final match of the Clemson Invitational. That match is broadcast on ACCNX.
Martin had four of her 10 kills in the opening set to lead Clemson to a 25-22 win to start the match.
Junior Ani Clark gave Clemson the 25-23 set win in the second set on a big kill. Clark, along with Martin, each had four kills in the set to lead the Tigers. Clark, who finished the match with a .800 hitting percentage, put down four of her five attempts. In the final set the Tigers jumped out to an early 7-2 lead and never looked back on their way to a 25-14 set win.
Game Notes:
Clemson improved to 29-15 all-time in season openers.
Jackie Simpson Kirr won her first match as Clemson's Head Volleyball Coach. Kirr had served as head coach at George Mason for two seasons in 2015 and 2016.
Kaylee Martin, a grad transfer who entered the match ninth in the NCAA among active players in kills, led the​​ Tigers with 10 kills and finished with a .391 hitting percentage (23 attacks) in her Tiger debut.
Sophomore preseason All-ACC selection Camryn Hannah added eight kills on 23 swings
Sophomore Jenna Moore, who had previously appeared in just three career matches, finished the day with 28 assists, seven digs and three service aces – all career highs.
Freshman libero Devan Taylor led the Tigers with 10 digs in her first career match.