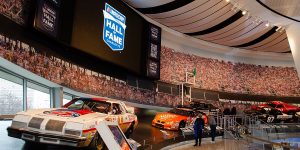 Every sports fan in the history of sports has had the same dream. You play for your favorite team or drive your favorite car, win an MVP and a championship, and get that call to the Hall of Fame. There is no more incredible feeling in professional sports to make the Hall. It is the exclusive list of the greatest of all time. But what does it take to be called?
Each sport has different criteria, or a formula, to be considered for the honor. In NASCAR, the formula is vastly different than that of a sport like the NFL. Obviously, championships matter, wins matter, but that's not the tell-all of the story. My personal favorite driver is Dale Earnhardt, Jr. He never won a Cup Series Championship and was only close to it once in his entire career, but was a first-ballot Hall Call. He did win two consecutive Xfinity Series titles, but those don't always factor in when being evaluated for a Hall nod. The Crown Jewel races are significant, being the Daytona 500, the Coca-Cola 600, Darlington 500, and the Brickyard 400, making a difference in a resume. Winning those races is rare. They are thought of by some drivers as being just as big as winning a championship, depending on how many titles you actually have.
Circling back to the initial question, what does it take to be called a NASCAR Hall of Famer? The only way I know to explain it is a success over a body of work. Some drivers get the call with less of a resume, and some drivers never get the call, which has had arguably more success than those already in. It takes more than just stats on the track; some stats go completely unseen on paper. One of my biggest focal points is what have you done for the sport? For guys like Richard Petty, he brought the sport into the spotlight. His nickname, "The King," represents his dominance of the sport during his driving era. Compiling 200 wins in the top series and seven championships makes him an easy selection. But take away all those stats, and The King would still be a Hall Call in my book.
It's not just drivers that make it to the special ring of honor. From Team Owners, all the way down to the mechanics in the shop, they all can make it in. In my mind, the driver gets all the credit, and in the early days, rightfully so. But in today's NASCAR, there is no driver that can be competitive at the highest level without the support and strength of the entire team you drive for. In the future, I hope to see more Crew members get the call and get more public attention for the hard work they put in every week.